2016 Lamar Days
May 22, 2016
Ron Cook organizes a good show each year during Larmar Days, Colorado. This year he had a lot of different cars and many, many many towns folk going through the show. Take a look.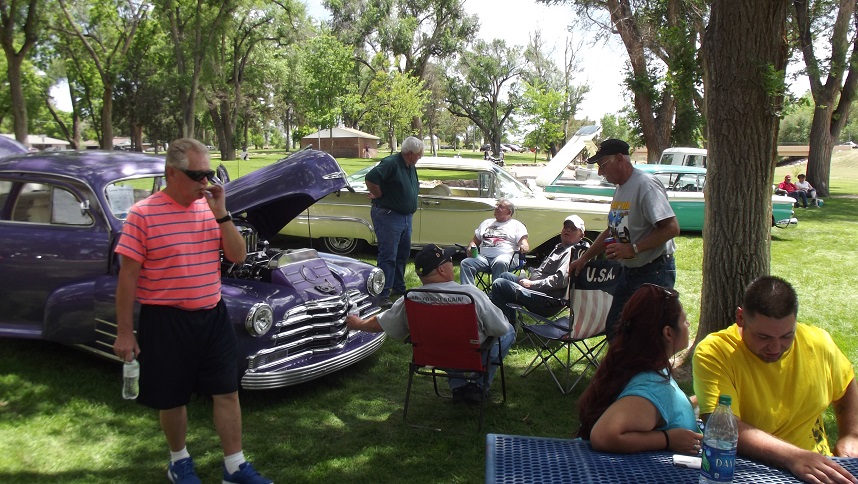 I recognize Kenny Snow and Jack Arnold. Oh, Dan Doporn is seated with his back to you, or at least that is what Ron called him when he presented his trophy. Rick and Bonnie Morgan of Eads, Colorado were in attendance. Bonnie and Rick Morgan collecting a trophy.
One of the reasons (along with Bonnie's beauty) that Rick and Bonnie always get a Trophy. Norman Parker's 1957 Mercury from Dighton, Kansas, was there.
Smoken Joe's, a tow truck from Aurora, Colorado won everthing but my girlfriend's heart, and she is waivering. Yup, I took a picture of the whole truck but someone must have bumped my camera. Can't be my fault!
I learned that there was and still is a bulding built of Petrified Wood in Lamar in 1933. I found the building and took a few pictures. I bet you have driven by it several times without notice.
Obviously, I could not get a good picture, but I took a picture of a picture.
Don't know if it is possible, but maybe the owner of this building would agree to let the building be used as a picture background during next year's run. I am good at making more work for others.
While searching for the above I noticed a sign of significance in a local LOVE'S store. Yes, Bonnie and Beth, I know that is a URINAL in the Men's Bathroom. Don't worry, I made sure it was flushed before I used it.
A little further down the road is an iconic building having great meaning in The Horses Asses history. Let me know if it is remebered. What was the name of the establishment. A few hints: will not serve you anymore, banging your elbow on the table does not help, thrown on the front of a bus, parole officer jacket, step up (literally) to the toilet. What a nice place.
The weather on the way home was, as always, threatening. How about a couple pictures out the window, at 60 - 65 mph south of Scott City.
I will quit and will let you go about your business if you answer my qeustions. Remember there are shows at Grainfield on May 29, 2016 and Tribune on June 4, 2016.